Prevent and remove Mold, Mycotoxins and VOC's from the air of your home using only "qualified" air purifier technology
I can't stress enough the importance of "extreme mold avoidance" and removing yourself from the presence of any indoor environment that has mold and mold toxins. However, AFTER you have removed yourself from the environment there are ways to keep and maintain a mold-free environment. One way that I have found is to include an air purifier in your home that has been researched to collect and eliminate specific micron-sized mold spores and/or mycotoxins as well as all VOC's from the air.
Only the best air purifiers are able to filter toxic molds and mycotoxins
**VERY IMPORTANT: Your air purifer purchase must be proven to be effective for both toxic mold spores and mycotoxin sized microns.
Most air purification systems DO NOT MEET these requirements so pricing will be much less because you are trapping "much less" in your air purifier.
What are Microns?
A micron is a system of measurement, just like an inch or a foot. Microns are much, much smaller. One micron is one-millionth of a meter or equivalent to 1/25,400 th of an inch. Yes...incredibly small!!
Standard (as I call them mediocre) purification filters, are marketed to draw you in and convince you that they trap some pretty small particles but they do not explain to you that their systems WILL NOT capture toxic mold spores or mycotoxins. For example, some of these cheaper filtration systems can trap some large, but not very dangerous mold spores, pet
dander, household dust and pollen. These particles often range in size from 5 - 10 microns in diameter. To help you put that in perspective let's compair it to an ordinary human hair. We all know that just one piece of hair is quite thin. But guess what?..an average human hair is approximately 150 microns wide! So now that you have that into perspective now you can understand the importance of what I'm about to show you as it pertains to purchasing your air purifier to protect yourself and your family from toxic mold and you will also see how buying an inferior air purifier can make you, your family or your pets sick.
Here are some standard "But Very Important" measurement facts you need to know:
Toxic mold spores (that have the ability to produce toxigenic substances called mycotoxin can range in size from: .9 - 1.8 microns

Other mold spores (that do not produce toxigenic substances) like allergic molds can range in size from 2-10 microns.

Mycotoxin (The dangerous neurotoxin created by toxic mold spores) are about .1 microns in size

FACT: Most inferior brands of air purifiers only collect particles or chemicals from 5 - 100 microns in size
This means that 90% of all purification systems sold on the market DO NOT have the capability to trap toxins less than 5 microns. So that air purifier you thought was doing such a great job? Think again. When making a purchase ALWAYS check the literature to make sure that your product has the ability to capture toxins less than .1 - .005 (microns) in this range.
PART #1 - MOLD SPORES:
For most, mold spores are the most concerning airborne allergen when it comes to being exposed to an indoor water damaged building. Other common concerns can also be plant spores and pollen. Exposure to mold spores (both toxigenic or non-toxic) usually results in an instant allergic reaction, such as runny nose, watering eyes, skin rash, headache, hay fever, sneezing, wheezing, nasal congestion, etc. These are considered the body's first response to introduction of mold spores and is considered an allergic reaction and not "yet" a mold toxicity.

Some types of mold spores can even cause a severe "acute" allergic reactions that go beyond an allergy-type response such as serious breathing difficulties, memory and hearing loss, confusion, headaches, dizziness, flu-like symptoms, brain inflammation, bloody noses and bleeding in the lungs.
One of the best technologies for trapping the "spore" is a True HEPA filter which is usually over 99.97% effective for collecting from the air all mold and plant spores. So, a True HEPA filter is the most critical part of the Air Purifier's design to prevent exposure by plant spores and mold spores from causing an "immediate" allergic reaction.
PART #2 - MYCOTOXINS:
Buying The Right Air Purifier
So now you are thinking: WOW!!! do I really have the time or energy to start researching air purifiers and scientific studies or read through all of the data on each product? Here's where I can help. I have done all the work for you by researching many products and air purifiers on the market so I've taken all the guess-work and painless searching out of the equation.
Here are my "Highly Recommended" and "Researched" top Air Purification Systems for Toxic Mold Spores, Mycotoxins, VOC's (for people with MCS) and Virus capabilities.
(These are in no particular order)
IQAir®

HealthPro Plus Air Purifier


Proven effective even for particles smaller than 0.003 microns

One important difference between IQAir and many other air cleaning systems is its proven filtration efficiency, both for particles as well as for gaseous pollutants. While standard HEPA filters are designed to stop particles only down to 0.3 microns in diameter, IQAir HyperHEPA® filtration is proven to filter particles down to 0.003 microns, the smallest particles that exist. That is critical when you consider that most viruses, for example, are smaller than 0.3 microns in diameter.

That's just one of the reasons why the Hong Kong Hospital Authority chose IQAir to help combat the spread of the deadly SARS virus.. At a typical size of 0.08 microns, the SARS virus is well below the 0.3 micron and larger efficiency range at which other manufacturers test . But IQAir's HyperHEPA filtration is highly effective against the tiny virus, filtering more than 99.5 percent of all particles down to 0.003 microns.

Alen BreatheSmart Customizable Air Purifier with HEPA-Pure Filter
Unit includes HEPA-Pure Filter
Makes cleaning the air simple with SmartSensor Technology that automatically adjusts airflow when it detects allergens and pollutants in your air
Creates an allergy and asthma friendly environment by capturing airborne dust, pet dander, mold spores (all sizes) and mycotoxin and pollen
Purifies large amounts of air while maintaining a peaceful environment with WhisperMax Technology
Covers up to 1100 square feet, removing 99% of particles 0.3 microns and greater and chemical/mycotoxin/VOC of .1 microns and greater
Helps maintain a clean household by reducing dust
Offers versatile filter options to address specific needs, including bacteria, chemicals, heavy odor and smoke
Includes Alen's Lifetime Limited Warranty
This is a 120V product. It is only safe to operate in in North America and not in countries with 220-240V power supply
The Air Oasis 3000 Xtreme G3 captures particles of .1 microns and higher

The Air Oasis 3000 Xtreme G3 is a large room air purifier that improves indoor air quality (IAQ) safely and efficiently. This purifier is a good choice for destroying germs and cleaning the air in sites measuring up to 3,000 square feet.
The Air Oasis 3000 Xtreme G3 uses only 15 watts of electricity, making it both economical and environmentally friendly. There are no filters to clean: The only maintenance required is replacement of the AHPCO cell every three years. An audible alarm alerts users when the cell needs to be replaced.

Slime, Mold & Bacteria are Destroyed: Polarized Ions actively seek out pollutants and break them down. They are neutralized as the contaminants are destroyed.

Blueair 503 HepaSilent Air-Purification System
Rate (CADR) of 375 cfm with 5 air changes per hour for smoke, dust, and pollen

Patented HEPASilent® technology traps 99.97% of harmful particles and Chemical/VOC/Mycotoxin down to 0.1 microns in size Clean Air Delivery

Designed specifically for rooms up to 580 square feet in size

SurroundAirTM technology takes in air through an area six times larger than the average air purifier

Austin Air Bedroom Machine Air Purifier (HM402)

Contains the most sophisticated, proven technologies packaged to deliver the most exceptional clean indoor air unequal in the industry
Revolutionary design, developed to improve sleep
Highly advanced air purifier exceptionally effective at removing particles and gases in the air
Keeps your bedroom fresh and clean.
The Austin Air Bedroom Machine™ uses 60 sq. ft. of medical-grade HEPA and is certified to remove 99.97% of airborne particles 0.3 microns and larger and .01 or greater of chemical/VOC/mycotoxin
Will cleanse the air for areas up to 1500 sq ft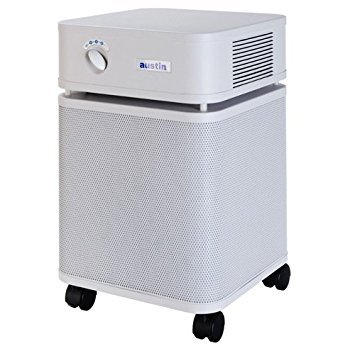 Austin Air "Healthmate Plus" Air Purifier (HM450)
Ultimate protection for people with chemical sensitivity. The Austin Air HealthMate+™ has been developed for people living in smaller spaces who are chemically sensitive and require the most comprehensive air cleaning solution.

Captures formaldehyde: Information about Formaldehyde and Austin: (read)
Cleans benzene, wood smoke, formaldehyde and other volatile organic compound (VOCs) from the air
Capable of trapping 99.97% of all polluting particulates down to 0.3 microns
Removes viruses and bacteria
Will cleanse the air for areas up to 1500 sq ft

Airocide is different from any other air purifier you've ever heard of or tried because it's not a filter. This technology, developed by NASA, clears the air of virtually 100% of Volatile Organic Compounds (VOC's) – the harmful gasses emitted by products you have around your home, like aerosol sprays, cleaning supplies, disinfectants, hobby supplies, dry-cleaned clothing, building materials, paints and paint thinners, strippers, pesticides and even air fresheners.

This FDA approved device also completely eliminates all mold, fungi, viruses and bacteria (all major causes of allergy symptoms) that enter the chamber. All that exits is clear, crisp air.

TESTING for Airocide

Mycotoxins - Toxic Portion of Mold Spores Decomposition by Airocide tested by
Texas Tech University. "The Inactivation of Two Trichothecene Mycotoxins Using the Airocide Photocatalytic Oxidation Reactor" – Center for Indoor Air Research, Department of Microbiology and Immunology, Texas Tech University Health Sciences Center.


The efficacy of an Airocide photocatalytic oxidation reactor in detoxifying the trichothecene mycotoxins verrucarin and roridin A over 3 time intervals was evaluated. Turbidity was measured every two hours by measuring the absorbance at 550 nm in a microtiter plate reader. Results showed that Airocide completely inactivated the mycotoxins at all tested concentrations.

VIEW THE RESULTS OF THE ACTUAL TEST HERE.




Bacillus Anthracis Spores - University of Wisconsin and the State of Wisconsin Hygiene Laboratory tested Bacillus thuringiensis spores with a 99.9986% Kill Rate in a Single Pass.
NASA Published Results.


A total of 60,865 spores entered the reactor and of this inoculum, a total of 5 CFUs exited the device and were collected on the surface of the seven sets of blood agar plates over the 70-min sampling period. After each 10-min sampling period culture plates were covered and labeled. A total of 14 culture plates were incubated overnight at 35 degrees Celsius. The CFUs of B. thuringiensis were counted and recorded for each culture plate.